When you're looking for a new car to purchase, you have a lot of options. It's a big decision
because this is an investment that will probably be a part of your life for years. So, you should make sure
that any car you choose to buy is the right one. If you think a compact sedan might be the best choice to fit
your needs and lifestyle, that's a great option. These vehicles have high-fuel economy ratings and are
usually sporty, versatile, and complete with a lot of great features. Two compact sedans that
are leaders among this class are the Nissan Sentra and Hyundai Elantra. So, between the two,
which is best? Let's look at a comparison of the 2016 Nissan Sentra vs 2016 Hyundai Elantra and find out.
The Nissan Sentra and Hyundai Elantra excel when it comes to performance, efficiency, style, and features, so we understand that it can be tough to choose between them. One thing that quite possibly stands out more than anything else is the design of these vehicles. For 2016, the new Nissan Sentra has had a stunning redesign across the entire vehicle. With this new design, the Sentra looks better than ever before, offing similar sporty styling that can also be seen in the compact sedan's big brothers, the Maxima and Altima.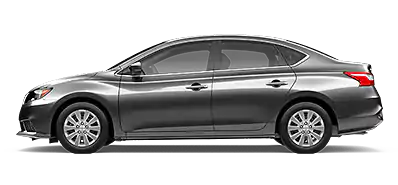 This design is one area where the 2016 Sentra is superior to the 2016 Elantra. The Hyundai
Elantra hasn't actually had a redesign since 2011, so even though it's a good looking vehicle,
it's not nearly as modern or striking at the new Sentra.
When it comes down to it, the value found in
the 2016 Nissan Sentra is what really puts it
ahead of the 2016 Hyundai Elantra. Drivers
looking for an efficient, fully equipped compact
sedan with cutting-edge style will find the new
Sentra brings more to the table than the
new Elantra.
If you are one of those drivers looking for a fresh, state-of-the-art compact sedan and you'd
like to learn more about the 2016 Nissan Sentra, please reach out to our staff here at Burlington
Nissan. We'll be happy to get you more information about the Sentra and let you know about it's
availability here at our dealership.
There are a few other areas where the 2016 Nissan
Sentra and 2016 Hyundai Elantra vary. One is in the
performance numbers. The 2016 Elantra has a little
higher horsepower than the 2016 Sentra, but the
Sentra has better fuel economy ratings overall. Depending on which aspect is more important to you,
those numbers may help you decide between the two vehicles. The other area the Nissan Sentra and
Hyundai Elantra are different is in the value offered.
Not only is the 2016 Sentra a little more affordable than the 2016 Elantra, Nissan's compact sedan
has features not available for Hyundai's model. The new Sentra will have available driver
assistance technology, smartphone connectivity through NissanConnect, and much more, which the
Elantra does not have available.